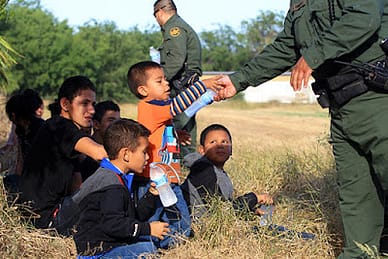 The Washington Post reports that the Department of Homeland Security (DHS) is again considering former department head John Kelly's proposal to separate Central American children from their parents, supposedly in order to deter a "surge" in entries by asylum seekers. In November, 7,018 families were detained at the southwestern border, a 45 percent increase over October's figure; the number of "unaccompanied alien children" rose by 26 percent. The families and unaccompanied children were largely from El Salvador, Honduras, and Guatemala.
Post reporter Nick Miroff (Twitter @NickMiroff) did a great job in breaking the story. Still, we have to wonder why he gave two paragraphs to the far-right Center for Immigration Studies' Andrew R. Arthur (email ara@cis.org) to explain why the policy only seems heartless. And the story itself raises a lot of questions:
Republicans blamed the Obama administration for a similar uptick in entries by Central American families and children during the first half of 2013. The claim then was thatObama policiessuch as DACA encouraged the increase. Now we have a new uptick following Trump's decision to end DACA. Are Republicans going to say the Trump administration is too soft on immigration?
Is there really a "surge," or is this justdeferred immigration? Entries were significantly down at the beginning of the year as potential immigrants waited to see how bad the Trump policies might be. Have people who put off the journey back then now decided they can't wait any longer?
What are factors in the main sending countries that might have pushed more people to leave in November? For example, Honduras was to hold elections at the end of the month. Many people might have left because they feared that violence would break out during the election period—asactually happened.
Much of the violence in the sending countries is connected to the drug trade. The U.S. has been engaged in a so-called "war on drugs" since the Nixon administration, includingmilitary aidto Central American countries. The results haven't been encouraging: U.S. drug overdose deaths rose from less than 10,000 in 1980 to about 64,000 in 2016. Why aren't we reconsidering our militarized strategy for curbing drug abuse?
Two of the three sending countries—Honduras and Guatemala—happen to be among thenine countriesthat supported the United States in a December 21 UN General Assembly vote on Trump's decision to move the U.S. embassy from Tel Aviv to Jerusalem. On November 28 the Trump administration certified the Honduran government's record on human rights, and on December 22 the administration recognized the Honduran regime's widely disputed "victory" in the November elections. Isn't it interesting that so many people are fleeing countries whose governments seem to be so close to the current White House?
Is the increase in entries by a few thousand children and families really a serious crisis?More than 200,000U.S. citizens have moved from Puerto Rico to Florida alone since hurricane Maria struck their homes in September. Why does this large increase in the mainland population get comparatively little attention? Is it because it highlights inadequacies in the Trump administration's relief efforts for Puerto Rico, or because it might focus attention on climate change denialism in the White House?
In short, even if the arrival of Central American asylum seekers is actually a problem—which is questionable—why try to solve it by traumatizing children and parents? Why not justend the U.S. government policiesthat force them to flee here?—TPOI editor
To curb illegal border crossings, Trump administration weighs new measures targeting families
By Nick Miroff, Washington Post
December 21, 2017
The Trump administration is considering measures to halt a surge of Central American families and unaccompanied minors coming across the Mexican border, including a proposal to separate parents from their children, according to officials with knowledge of the plans.
These measures, described on the condition of anonymity because they have not been publicly disclosed, would also crack down on migrants living in the United States illegally who send for their children. That aspect of the effort would use data collected by the Department of Health and Human Services (HHS) to target parents for deportation after they attempt to regain custody of their children from government shelters.[…]
Read the full article:
https://www.washingtonpost.com/world/national-security/to-curb-illegal-border-crossings-trump-administration-weighs-new-measures-targeting-families/2017/12/21/19300dc2-e66c-11e7-9ec2-518810e7d44d_story.html