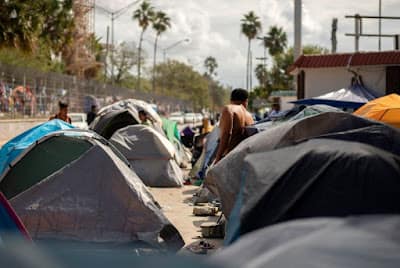 Dara Lind, an investigative reporter covering immigration at ProPublica, noted in a tweet on November 22 "how mind-boggling it is that the mass pushback of people to Mexico, in conditions like this & staggering rates of crime victimization, hasn't become a major news story/outrage magnet yet."
Lind was referring to the administration's Migrant Protection Protocols (MPP) program, also known as "Remain in Mexico." After a slow start near the beginning of the year, MPP has now forced some 60,000 asylum seekers into Mexico to wait for their claims to be processed—more than the total number of immigrants the U.S. is holding in immigration detention. MPP is one of the most significant of the administration's efforts to end the asylum system that the U.S. created in 1980.
Lind is right: MPP has failed to spark the level of outrage that met the family separation policy in June 2018. There are various reasons for this, including the program's initially slow rollout and the political class's focus since September on the Ukraine crisis, but there are hopeful signs, especially in the corporate media. The past few weeks have brought a number of powerful articles on the subject, along with op-eds, opinion columns, a report from Sen. Jeff Merkley's office, and an hour-long presentation on NPR's This American Life. Some of this coverage is listed below.
So what can we do to bring more attention to this ongoing atrocity?
The recent media reports can be a useful tool in reaching out to activists. MPP is actually the biggest and cruelest of the Trump administration's many attacks on migrants: protests would be inevitable if more people understood this. Influential politicians could also help. Sen. Merkley and Rep. Nanette Barrgan have brought attention to the issue: imagine the impact if Sen. Bernie Sanders and Rep. Alexandria Ocasio-Cortez—who are both on the record opposing the program—sent out a few tweets highlighting the horrors of MPP.
Recent Articles and Other Reports on MPP/"Remain in Mexico":  
"In scathing manifesto, an asylum officer blasts Trump's cruelty to migrants," Washington Post, November 12, 2019:
https://www.washingtonpost.com/opinions/2019/11/12/scathing-manifesto-an-asylum-officer-blasts-trumps-cruelty-migrants/
"Merkley Releases Sweeping Report on Trump's Gutting of Asylum, Including Direct Evidence of Grave Whistleblower Concerns," Senator Merkley press release, November 14, 2019:
https://www.merkley.senate.gov/news/press-releases/merkley-releases-sweeping-report-on-trumps-gutting-of-asylum-including-direct-evidence-of-grave-whistleblower-concerns-2019
"Tents, stench, smoke: Health risks are gripping migrant camp," AP, November 14, 2019:
https://apnews.com/337b139ed4fa4d208b93d491364e04da
"US Border Officials Pressured Asylum Officers To Deny Entry To Immigrants Seeking Protection, A Report Finds," BuzzFeed News, November 15, 2019:
https://www.buzzfeednews.com/article/hamedaleaziz/dhs-asylum-report-mpp-immigration-remain-mexico
"The Out Crowd," This American Life, November 15, 2019:
https://www.thisamericanlife.org/688/the-out-crowd
"Asylum officers rebel against Trump policies they say are immoral and illegal," Los Angeles Times, November 15, 2019:
https://www.latimes.com/politics/story/2019-11-15/asylum-officers-revolt-against-trump-policies-they-say-are-immoral-illegal
"Migrants stuck in lawless limbo within sight of America," AP, November 17, 2019:
https://apnews.com/3752fd080525419fbe9352901b50e0ba
"'Remain in Mexico' policy faces internal critiques at House hearing," Roll Call, November 19, 2019:
https://www.rollcall.com/news/congress/remain-mexico-policy-faces-internal-critiques-homeland-security-hearing
"My city used to welcome refugees. 'Remain in Mexico' means we can't anymore." Washington Post, November 19, 2019:
https://www.washingtonpost.com/outlook/2019/11/19/my-city-used-welcome-refugees-remain-mexico-means-we-cant-anymore/
"In squalid Mexico tent city, asylum seekers are growing so desperate they're sending their children over the border alone," Washington Post, November 22, 2019:
https://www.washingtonpost.com/world/the_americas/in-squalid-mexico-tent-city-asylum-seekers-are-growing-so-desperate-theyre-sending-their-children-over-the-border-alone/2019/11/22/9e5044ec-0c92-11ea-8054-289aef6e38a3_story.html
"At Migrant Camp in Mexico, Crowds and Complaints Swell," Wall Street Journal, November 23, 2019:
https://www.wsj.com/articles/at-migrant-camp-in-mexico-crowds-and-complaints-swell-11574510400
"Desperate Asylum-Seekers Stuck In Mexico Are Sending Their Children Across The US Border Alone," BuzzFeed News, November 25, 2019:
https://www.buzzfeednews.com/article/adolfoflores/immigrants-mexico-sending-children-alone-us
"For Migrants In Nuevo Laredo, 'Remain In Mexico' Means Remain In Danger," Texas Public Radio, November 27, 2019:
https://www.tpr.org/post/migrants-nuevo-laredo-remain-mexico-means-remain-danger
"Immigrants Sent Back To Mexico Are Not Getting Adequate Health Care, And Doctors Are Worried," BuzzFeed News, November 27, 2019:
https://www.buzzfeednews.com/article/adolfoflores/immigrants-mexico-inadequate-healthcare